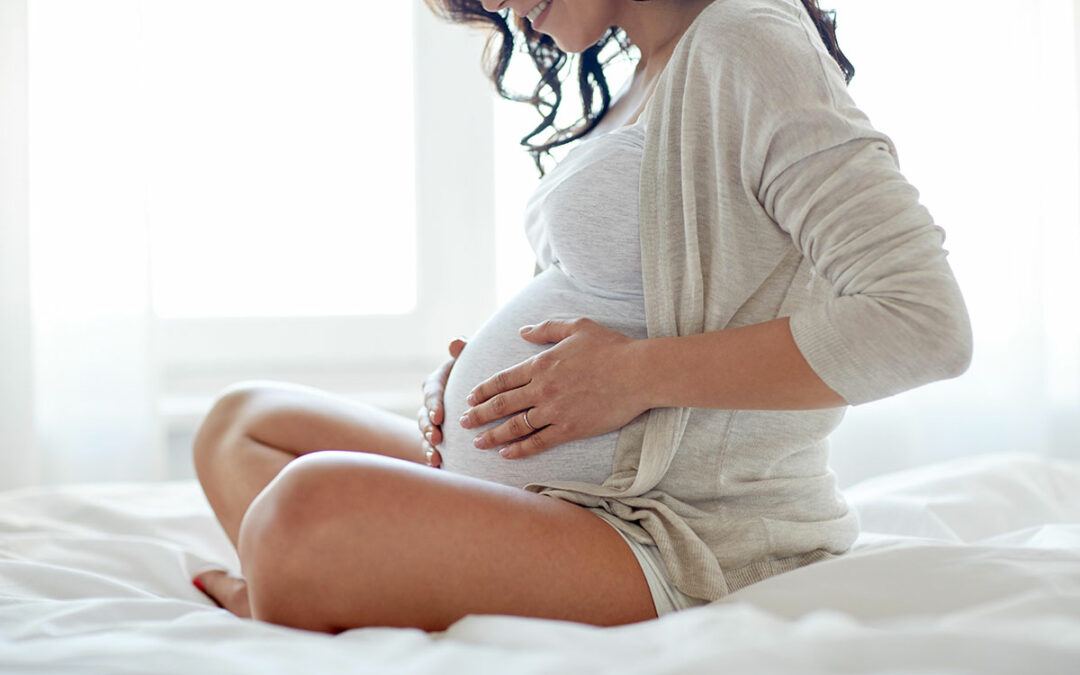 Pregnancy and the Benefits of Pelvic Floor Physiotherapy
There are two key times of pelvic floor education: during pregnancy, and after pregnancy.
During pregnancy, you can work with your Pelvic Floor Physiotherapist to learn how to properly strengthen and relax the pelvic floor. A strong pelvic floor is important, but so is knowing how to relax the pelvic floor muscles, especially during childbirth.
You'll learn strategies in preventing or reducing back pain and pelvic girdle pain (i.e. pubic symphysis dysfunction, sacroiliac joint (SIJ) pain).
In addition to learning strategies preparing for childbirth (such as perineal stretching, labor and birth positions, and more), you'll come to better understand strategies for early postpartum recovery, especially during the first 6 weeks. The topics will include pain relief measures, early bowel and bladder optimization, early phase pelvic floor strengthening, and scar care strategies.
Another key area of education you'll appreciate during pregnancy is optimal postures and positions for activities of daily living (such as lifting and carrying techniques, getting in and out of a car,  etc).
After pregnancy, you'll appreciate the benefits of Pelvic Floor Physiotherapy equally
First, restoring pelvic floor muscle function and addressing any issues in postpartum recovery (such as urinary or bowel incontinence, or prolapse) can make a significant improvement to you quality of life.
Working with your Pelvic Floor Physiotherapist, you'll learn to desensitize and mobilize scar tissue (e.g. caesarean scar, episiotomy scar, perineal tear scar). Addressing pain with sexual activities is a visited topic; as is Diastasis Rectus Abdominis (DRA) – which addresses assessment and rehabilitation strategies.
Other important advantage to working with your Pelvic Floor Physiotherapist postpartum is guidance in returning to an exercise program.
To learn more about about pelvic floor education and treatment, book an appointment today.
Nikolina completed her Masters of Physical Therapy program at the University of British Columbia and has worked as a Physiotherapist in Prince George and the Kootenays. She has recently moved back to Lake Country to be closer to family and enjoy all that the Okanagan has to offer.
Women's health and pelvic floor physiotherapy are the focus of Nikolina's career. She treats the prenatal and postpartum populations, as well as individuals that have had surgery and those living with incontinence, urgency, frequency, prolapse, pelvic pain and/or sexual dysfunction. Additionally, she works with individuals who have a musculoskeletal or sports injury, and those undergoing post-surgical rehabilitation. Nikolina has taken many post-graduate courses to advance her training in these fields and is dedicated to developing her expertise. Her physio toolkit consists of manual therapy, education and individualized exercise programs. She is also accredited in Anatomical Acupuncture by Acupuncture Canada. With her warm and glowing personality, she creates a professional and compassionate environment where she can work closely with you to help you achieve your goals.
When she's not in the clinic, you might find Nikolina painting a masterpiece, exploring the farmer's market or biking on the trails. Is it snowing? She'll be on her skis! Doesn't matter where, as long she's on the move!
Nikolina looks forward to meeting you and working with you!